Happy New Year! We're not exaggerating to say that there are a lot of new innovations and investments coming to in the Tampa Bay Area in 2021 to whet our appetite for the future. 
Multi-use developments promise to transform bustling business districts. Expect new and renewed access to outdoor spaces throughout the region. And get ready to enjoy immersive art and cultural experiences that will offer new opportunities to connect with our neighbors — social engagement opportunities that will feel more important than ever after a year characterized by social distancing.
To pique your interest, 83 Degrees has put together a collection of a few of the most exciting developments that will break ground or reach completion this year in and around Tampa, St. Pete, Clearwater, Lakeland, Bradenton, and Sarasota. 
With so much in store, we're eager to hear what you're excited about in 2021, too — so be sure to comment below the story and let us know what you can't wait to see in the New Year and beyond.
Tampa
Tampa welcomes Peninsularium, a one-of-a-kind immersive arts attraction
Hearkening back to the vintage roadside attractions that characterize "Weird Florida" kitsch, quirk and charm: The Crab Devil artists collective's Peninsularium aims to offer a permanent, immersive art-and-cultural experience unique to Tampa.
The two-acre Peninsularium site at 3800 N. Nebraska Ave., belonging to the Crab Devil artist collective, will house Crab Devil, as well as craft brewery Deviant Libations, LiveWork Studios, and the Tempus Projects gallery. Of course, galleries and breweries aren't new to Tampa or the region, but here's what makes the Peninsularium special:
A replica "Old Florida" bait shop fronts the walk-through art experience that sprawls across a maze of approximately two dozen repurposed shipping containers, each spanning 40 feet in length and fully air-conditioned. A call for artists placed in 2020 encourages artists to create "environments" that transform each shipping container into an immersive interpretation of the elements that make Florida weird and wonderful. The shipping container format provides the opportunity for installations to be sent on loan or otherwise switched out as the space evolves.
This maze-like sprawl of shipping container art installations, fronted by a more unassuming bait shop, is inspired by the Meow Wolf art installation that premiered in New Mexico in 2008 to worldwide acclaim. 
The Peninsularium is expected to open to the public in late 2021.
Luxury skyrise apartments begin construction in Channel District
Following the acquisition of a $68.9 million construction loan from Cadence Bank in August, Alabama-based Daniel Corp. broke ground in late September on a 19-story luxury apartment tower at the corner of East Twiggs Street and Channelside Drive. The tower will include 324 units — a mix of studio and one and two-bedroom apartments. Brasfield & Gorrie is the general contractor Elevé61 breaks ground in the Channel District in 2021. The luxury condominiums are designed by Orlando architect Scott + Cormia.of the $80-million-project, which is slated for completion in fall, 2022.
Mercury Advisors announced in July that it obtained $74 million in construction financing for Elevé 61, which at 35 stories is slated to become the third-tallest residential building in the Tampa Bay area. The luxury condominium is designed by Orlando architect, Scott + Cormia, and will feature 61 different 2,200-square-foot sky residences with floor-to-ceiling glass views and no adjoining walls with other residences. The site sits at East Whiting Street and Channelside Drive. Elevé 61 will begin construction in the second quarter of 2021 says Mercury Advisors Director Ken Stoltenberg. 
ENCORE! Tampa edges toward completion with new market-rate apartment complexes
ENCORE! Tampa, the Tampa Housing Authority's 28-acre urban renewal project at the north edge of downtown on the former Central Park Village site, will receive two new market-rate apartment complexes in 2021. The Independent and The Legacy, both currently under construction by Summit Contracting, will add around 516 residences to the approximately 660 already built at ENCORE! since 2012.
At six stories and 275,000 square feet, The Independent will consist of 288 units with a seven-story parking deck. The development will also showcase a mezzanine level of two-story loft apartment units. Legacy at Encore is a five-story, wood frame, 228-unit multi-family community with a five-story parking garage.
University Mall Sears redevelopment spearheads RITHM Uptown Innovation District 
In the first half of 2020, the demolition of the two-story, 200,000 square-foot Sears building at University Mall was an important step in the site's bold, ongoing transformation into the RITHM Uptown Innovation District — a 100-acre redevelopment project that aims to become one of Florida's largest mixed-use innovation communities. 
In early November, Chicago-based developer Core Spaces purchased a 4.5-acre portion of the former Sears site for $6.17 million and announced plans to build a 373-unit, 887-bed student housing development called Hub Tampa in 2021. Tampa Bay Business Journal reports Core Spaces closed a $56 million construction loan from Synovus Bank on Dec. 4, 2020. 
Rob Rosner, Director of Economic Opportunity at the City of Tampa, says the student housing complex will be "the kickoff, the igniter, the catalyst" for the University Mall redevelopment. Hub Tampa is slated for completion in 2022.
Riverwalk expansion will connect West Tampa neighborhoods with Downtown
The City of Tampa was recently awarded $24 million in federal funding from the U.S. Department of Transportation to extend the west side of the Tampa Riverwalk for 12.2 miles northward, connecting neighborhoods on the west side of Hillsborough River to downtown Tampa.
Project funding comes from the USDOT's Better Utilizing Investment to Leverage Development (BUILD) grant. It will connect three designated Opportunity Zone neighborhoods to downtown and provide safe mobility options for pedestrians and bicyclists to commute to the University of Tampa, and the neighborhoods of West Tampa, Ybor City, Tampa Heights, and downtown Tampa.
The Riverwalk expansion will begin in September 2021. Completion is expected in 2027.
USF Judy Genshaft Honors College undergoes construction
The University of South Florida officially broke ground on the Judy Genshaft Honors College in December. The five-story, 80,000-square-foot building will house classrooms and study areas, a computer lab, faculty and adviser offices, and performance space. The $54.6-million project is expected to be completed by Fall 2022.
"The new Judy Genshaft Honors College building is an architectural masterpiece designed by one of the leading firms in the world, but more importantly, it is a statement about USF's commitment to academic excellence, and to the future leaders of our nation, our state, and the world,'' says Honors College Dean, Charles Adams. "The building will provide a space for our brightest students from every field of endeavor to come together to share ideas, to inspire each other, and to begin their work toward building a better world. Our best students deserve the best facilities, and this building will be the gold standard for public honors colleges nationwide."
Dallas-based contractor The Beck Group leads construction. Safety Harbor-based FleischmanGarcia and New York-based Morphosis Architects are the architects on the project.
St. Petersburg
The Factory rethinks, meets COVID-19 challenges, with a focus on open-air offerings
When The Factory St. Pete broke ground in the Warehouse District in March 2020 — planning to be fully operational by the end of the year — Behar + Peteranecz Architecture Executive Director and Factory co-owner Kara Behar knew converting eight industrial buildings from the 1970s into a 91,000-square-feet arts hub would be no small feat. What she couldn't foresee was the pandemic.
"We were ready to break ground and went in for an early start on our permit on March 5," Behar says. "In March, we were 70% leased out, but a lot of our tenants had to back out — not permanently, but everyone had to rethink."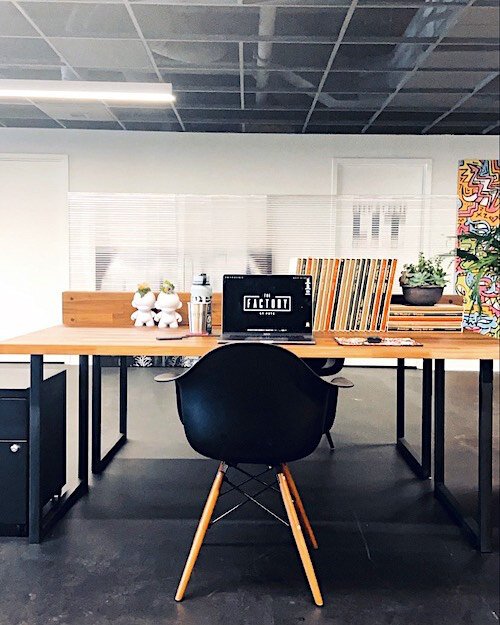 The Factory in the DTSP Warehouse District will have studio and pop-up retail space available to artists in 2021.The Factory will open its doors — albeit, with a bit more room to breathe safely — in 2021. Two of The Factory's eight outdoor classrooms are already in use by American Stage Theatre Company and Keep St. Pete Lit. The first building at The Factory opens this month with seven private studios and 16 socially distanced desks available by membership.
"We were originally oriented toward performing arts, especially in terms of offering rehearsal space. But we've realized now there's more of a need for flexible, mid-size art studio space —  and people who lost their brick-and-mortar spaces don't necessarily want 1,000 square feet of retail space on Central Avenue. They're taking advantage of more pop-up market concepts," says Behar.
"So we've opened up significantly more studio spaces and there are more to come. We'll have another 20 to 30 open up in the next year. We're offering those studios as pop-up retail spots that artists can use in ways that work for them — on Second Saturdays, or they can set up a pop-up shop that's open for retail three weeks of the year."
The Fairgrounds St. Pete to open at The Factory this spring
While coronavirus may have slowed, or at least re-calibrated plans for some residents at The Factory, the Meow Wolf-inspired Fairgrounds St. Pete's immersive art experience remains on track to open in Spring 2021. 
The Fairgrounds occupies a 15,000-square-foot space at The Factory, which it says will offer a "choose-your-own-adventure" art gallery featuring "Florida-inspired," immersive, and technology-forward art experiences. In December The Fairgrounds participated in a "First Look" event at The Factory, presenting a "Floridarama" pop-up that offered guests an idea of what to expect when the space opens in the Spring.
Interest piqued? Join the Fairgrounds Insiders Club for first access to VIP events, tickets, and to preview the space before its grand opening.
Orange Station mixed-use apartments to break ground in DTSP Edge District
Edge Central Development Partners, a joint venture between J2 Developers and DDA Development, was selected by the City of St. Pete to redevelop the former St. Pete police headquarters site at 1300 1st Ave. N last year, and in August finalized the agreement for a mixed-use apartment, office, and retail complex. Orange Station at the Edge will break ground in the second half of 2021 and is scheduled for completion in 2023.
"We envision this as a future hub for the Edge District. It has four different use components that will interact with each other, so we anticipate we'll have some folks who will live in a condo at Orange Station, work in the offices, and be able to walk downstairs to enjoy a cup of coffee and shop the retail spaces," says J2 President Jay Miller.
Orange Station will include 56 urban condominiums, 30 workforce apartments, 100,000 square feet of Class A office space, 20,000 square feet of Central Ave. retail space, and will be anchored by a European-style outdoor plaza with open-air cafes. 
Miller says the City and developers will contribute a combined $150,000 toward a piece of public art at Orange Station. The work will commemorate the "Courageous 12": the 12 St. Petersburg police officers who filed a federal lawsuit in the 1960s and became the first Black officers to patrol white neighborhoods in St. Pete — a landmark civil rights case that led to desegregation efforts in law enforcement across the Tampa Bay region and the country.
What's next for Tropicana Field? An RFP creates necessary conversations
Tropicana Field may turn a page in 2021 toward the next chapter in its redevelopment — but not without a series of thoughtful conversations and negotiations between the City, developers, and the Trop's neighbors. Putting a "shovel in the ground," says City Development Administrator Alan DeLisle, will be another 3-5 years down the road.  
A Black community thrived in the Gas Plant neighborhood before much of the area was razed and its residents relocated for the stadium's construction in the early 1980s. In its redevelopment process through the 2020s, the City vows not to repeat this prior transgression.
St. Petersburg issued a request for proposals to redevelop the 86 acre Tropicana Field site in July. This RFP is available for review and submissions until Jan. 15, 2021. The next steps will include assembling a team to review the proposals' strengths and weaknesses and narrow the pool, and to arrange meetings with the selected potential developers, project stakeholders, and Gas Plant District residents to promote community dialogue and transparency.
The Rays' stadium lease concludes at the end of the 2027 season and the team has yet to announce its future plans. Developer proposals will show plans for the site both with and without a stadium. 
Clearwater
Imagine Clearwater vision becomes reality with Coachman Park redesign
The City of Clearwater will break ground on its Coachman Park redevelopment no later than Summer 2021 — a milestone stage in the $64 million Imagine Clearwater plan to rebuild the downtown waterfront. Stantec is the design consultant for Imagine Clearwater. Stockholm-based construction company Skanska is the contractor.
The 22-acre park will feature a new $15 million, 4,000-seat covered outdoor amphitheater at its north end facing the Main Library — which will also experience radical transformation when its doors re-open in 2021. The Main Library closed temporarily in September to begin approximately $4 million in renovations and is targeted for completion in Summer 2021.
Clearwater Assistant City Manager Michael Delk says the redevelopment plan at Coachman Park places an emphasis on providing space for open-air events such as concerts and farmers markets at the heart of downtown Clearwater. 
"This is such a pretty location — really, a destination in its own right — and, with a major amphitheater and live music, will be a spectacular waterfront," Delk says.
The Coachman Park redesign also features a new garden, lake and pagoda, a concert green and gateway plaza, and open green spaces including a ½-mile bluff walk. The target completion date is March 2022. 
Cleveland Streetscape Phase 3 establishes a pedestrian-friendly sense of place
Construction on the third phase of the Downtown Cleveland Streetscape project, led by the City of Clearwater Community Redevelopment Agency, will begin in Summer 2021, says CRA Director Amanda Thompson. Construction bids went out in December. 
The first two phases of the project took place on Cleveland Street between Osceola, Myrtle, and Missouri Avenues, and Phase 3 will extend eastward to where Highland Avenue, Court Street, and Cleveland connect. This phase of the project brings to fruition CRA plans for a "Festival Core" at Cleveland Street and Gulf-to-Bay Boulevard — where a Latin American-style Mercado will provide shaded space for artisan markets and other public events.
The three-phase Cleveland Street renovation includes a complete redo of all underground utilities, implementing green bio-retention zones, improving parking, bike lanes, new street lights, and wider sidewalks to encourage pedestrian traffic. 
Thompson says that in addition to the street-level transformation on Cleveland, downtown Clearwater anticipates more cutting-edge public art offerings in its future. Possibilities include wearable art displays in local storefronts, immersive light installations, and virtual and V.R. mural and sculpture tours.
"We've focused on using the arts — performance and visual — to attract new audiences and patrons to downtown. For us, it's about reaching people who would never think about or come downtown, and to build a sense of community and activity," Thompson says.
Lakeland
Bonnet Springs Park
Projects with the ambition and breadth of Lakeland's Bonnet Springs Park are often the type that open to the public in phases because their funding, design, and construction timeline can span across years. 
And — yes, the groundwork to transform formerly contaminated brownfields at Lakeland's former CSX Railyard site into a world-class, 170-acre green space has been at least five years in the making. But for those with their eyes on Bonnet Springs, City of Lakeland Business Development and Special Projects Manager Jason Willey says: Don't blink: the park's final transformation will move full steam ahead this year.
Of the park's nine buildings, Willey says at least two-thirds are currently "pouring concrete and moving steel," and that the park is slated for a full opening in 2022. At the time of Bonnet Springs' December 2020 construction update, the park's welcome center, greenhouse, event center, and a 40,000+-square-foot children's science and discovery museum were well underway. 
Upon completion in 2022, Bonnet Springs Park will feature a 2.5-mile trail circuit called the Lakeland Regional Health Circulator; edible and botanical gardens, a two-acre great lawn, a wedding terrace and outdoor kitchen, a meditative pagoda, a 500-square-foot treehouse for kids, a wetlands boardwalk, a boathouse for lake recreation, a canopy walk, a nature center, classrooms, and more.
"Lakeland is known for its parks, and this one will be a standout, so we're not looking at a phased opening — we want the whole park to open at the same time. We're at the point where Bonnet Springs Park feels super real — and it's got a lot of people excited," says Willey.
Bradenton
SCF Center for Advanced Technology and Information (CATI) Opens in Fall
State College of Florida (SCF) began renovations in February 2020 on its former library (Building 8) to create the SCF Center for Advanced Technology and Information (CATI). 
Upon its completion in Fall 2021 CATI is poised to become a state-of-the-art technology center that serves as a coding and I.T. academy, as well as an on-campus incubator and accelerator for tech start-ups and entrepreneurs. This tech hub will also feature a studio space for creative video and augmented reality projects.
SCF contributed $8 million toward the project in addition to $3.6 million in support from the Florida Department of Economic Opportunity and Enterprise's Florida Job Growth Grant Fund. SCF CATI reflects a partnership between State College of Florida, the Bradenton Area Economic Development Corporation, and the Economic Development Corporation of Sarasota County.
Sarasota
The Bay Park Conservancy begins Phase I of downtown bayfront transformation
Shovels will hit the ground in 2021 in the first phase of the ambitious overhaul of the Sarasota bayfront adjacent to the Van Wezel Performing Arts Hall. Phase I includes a redesign of the lawn, new restrooms and concessions, and enhancements to coastal wetland south of Van Wezel. This phase of the project is projected for completion by late 2021. A 600-700 foot sunset boardwalk extending west over the Bay is targeted for completion by the end of 2022 to round out Phase 1. 
Bay Park Conservancy (BPC), the nonprofit organization responsible for the planning and redevelopment of 53 acres of city-owned land on the bayfront of downtown Sarasota, is the first park conservancy of its kind in Florida and one of just 40 in the nation, says BPC Managing Director Bill Waddell. BPC reached a crucial milestone in November 2020 with a $5 million match-challenge gift through the Patterson Foundation, which brings BPC to $15 million of a $20 million private-source fundraising goal. An additional $5 million from public sector grants and the City of Sarasota will permit BPC to break ground on the project's $25 million first leg.
Waddell says Phase 1 will cover 10 acres at the park's southern end, equaling approximately 20 percent of the bayfront transformation that will occur in phases over several years. Waddell also looks forward to future phases, which include a reimagination of the 10th St. boat ramp. Looking toward the future, BPC envisions in addition to a new boat ramp, a canal district with waterfront restaurants, facilities, and short-term docking parcels for boaters to enjoy day-trips to the Sarasota bayfront.
In the long term, the Bay Park Conservancy project will culminate with the completion of a $250 million state-of-the-art performing arts center that replaces the historic Van Wezel Performing Arts Hall.
Quay Sarasota
The 14-acre waterfront location along the Sarasota bayfront, The Quay, is positioned to continue its phased redevelopment and transformation in 2021 to become an upscale mixed-use district with luxury living, retail, and office space. 
In late December, Quay developer GreenPointe Communities and real estate investment firm Cross Lake Partners announced two closings for luxury high rise apartments that will begin construction in 2021. 
Lennar Multifamily Communities purchased 1.65 acres of Quay waterfront with plans to build a 12-story luxury development with 240 multi-family homes and over 13,000 square feet of retail space, a rooftop wine lounge, catering kitchen, business center, and conference rooms, outdoor cabanas, bike repair shop, dog park, and more. Construction breaks ground in May 2021 and is slated for completion in 2023.
Kolter Urban acquired 1.15 acres to construct Bayso Sarasota, an 18-story luxury high rise condominium. Bayso will house 149 residences, featuring 11 innovative two- and three-bedroom floor plans ranging from 1,600 to 2,600 square feet, and seven luxury penthouses ranging from 2,500 to nearly 4,000 square feet. Bayso amenities include a resort-style pool and spa deck and cabanas, a catering kitchen and club bar for residents, a state-of-the-art fitness center, dog park, and more. Construction is slated to begin in the second quarter of 2021 with completion targeted for Fall 2023.